Bitcoin analysis
Shakespeare couldn't write the drama unfolding at the $30,000 bitcoin level as the tug of war between bulls and bears persists. Bitcoin spent Monday's daily candle in red figures and was -2.8% heading into its daily candle close.
Bitcoin's price is still ranging over the last month between $30k-$36k and there's a lot of sideways chop ongoing but there are bullish indicators flashing for VincePrince in the chart below.
BTC is showing a few different patterns that are reminiscent of March 2020's covid crash in stocks that caused a liquidity sell-off across all markets including the cryptocurrency sector. 
A contrary indicator may be from the popular crypto twitter figure PlanB's stock-to-flow model that's currently diverging from its expected target. The model has BTC's price already in six figures by this time and the BTC price is just under $31k at the time of writing. 
The Fear and Greed Index that tracks bitcoin sentiment is 19 and down 5 points from yesterday.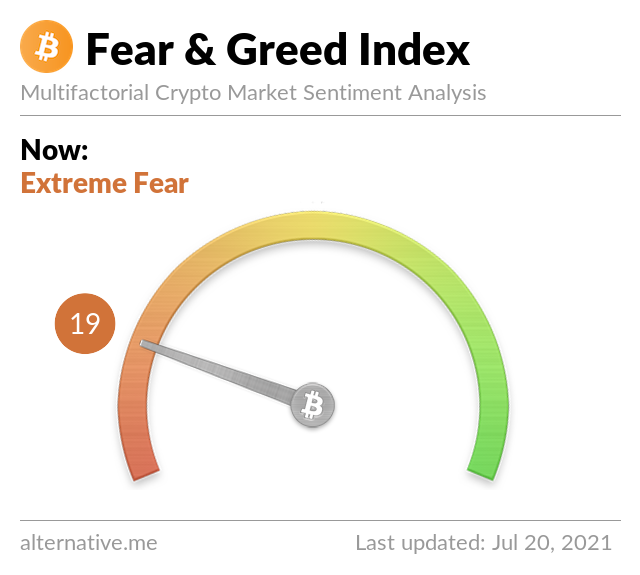 Bitcoin's 24 hour range is $30,500-$31,957 and the 7 day range is $30,500-$33,327. The 30 day average BTC price is $33,474. 
BTC closed Monday's daily candle worth $33,474. 
Binance Coin Price Analysis 
One person that appears to be majorly bullish is billionaire Binance Founder, Changpeng Zhao. 
5 years later, the best time to buy #bitcoin is now.

— CZ Binance (@cz_binance) July 16, 2021
Although CZ has launched BNB, he still apparently remains bullish on bitcoin.
The BNB / BTC pair is 374% for the last 12 months and the BNB / ETH pair is 107%. 
Binance Coin had been regarding $300 as strong support resistance for an extended time but surrendered that price level to bears on Monday.
On Sunday, Binance announced a burn of $390 million worth of BNB. This burn was the 16th quarterly burn for BNB and Binance Coin's circulating supply now makes up more than 90% of its total supply of 170.53 million units.
In summary: 1,296,728 #BNB (390,855,150 USD) burned by @Binance.

The remaining 16m BNB unlocked, and moved to a team address, according to the schedule in the white paper.#Binance team has never used or sold a single team #BNB thus far, only burned them.

— CZ Binance (@cz_binance) July 18, 2021
Although the long term sell pressure is relieved by shrinking the supply, the short term price action has reacted negatively and actually fallen following the majority of the quarterly burn events. 
The above chart from Yuriy_Bishko shows the first bear target to the downside on the 4hr chart to be $235. Bulls on the contrary need to get BNB back above the most recent trendline and flip $300 back to support resistance.
BNB's 24 hour range is $278-$303 and 7 day range is $278-$322. Binance Coin's average price over the last 30 days is $302. 
BNB's daily candle closed on Monday worth $280.49. 
The post Bitcoin [BTC] and Binance Coin [BNB] Price Analysis appeared first on The Cryptonomist.